New Navigation and Feature Updates
We've been listening and we've heard you loud and clear. Akamai is constantly striving to optimize the solutions that we offer in an effort to make our customers experience more simplified and efficient. In support of these efforts, Akamai is happy to introduce a modified new navigation on Media Analytics, and some new User Interface features to help simplify the data gathering experience and make the portal more user-friendly. The following are the changes that you will begin to notice starting July 30th, 2015:


Unified Navigation
The unified Media Analytics product combines Quality of Service Monitor (QoS), Audience Analytics, and Viewer Diagnostics into one single view. In this simplified navigation, we will remove the mega-menu links under Media Analytics within the Luna Control Center. No more complex navigation to perform simple tasks. This single starting point steers you to the right report pack and to quick and easy dashboard viewing with only a few clicks.



Report-pack selector drop-down
To further ease and simplify the navigation within the application, we will show all configured Report Packs in the selector drop-down. This makes switching between QoS Monitor & Audience Analytics or Viewer Diagnostics more efficient and faster. To access this, you'll find this under Monitor > Media Analytics, and select the Report Packs drop down menu.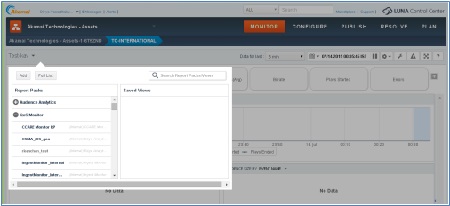 Media Analytics Configuration
Under Configure > Media Analytics on Luna, the dashboard will act as a single starting point for viewing dashboards, adding new report-packs and editing existing report-packs. This will greatly improve the user-experience by reducing the complexity of navigation and reducing the number of clicks to get things done.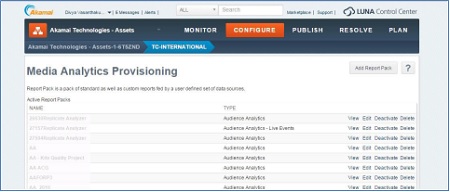 REST APIs
For more access, we've introduced more REST APIs that are designed to cater to Media Analytics features – QoS Monitor, Audience Analytics & Viewer Diagnostics under a single end-point: https://developer.akamai.com/api/luna/media-analytics/overview.html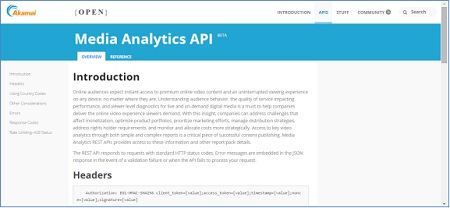 A Mini-Builder
Get straight down to business and edit a report on the fly by simply selecting or taking away metrics and dimensions and applying it to the report. Simply click the edit button on a report page to open the mini report builder. To configure a new report, you can always fall back on the report builder.
Drill-Down Reports
Once a report has been built, access Drill-Down Reports by clicking on any category to dynamically open and choose dimensions drop down, and pick a dimension for additional secondary or tertiary dimension from the pop-up window. To go back and choose other dimensions, you have to go back to the mini-builder (shown above) and unselect the current dimension and reselect another one.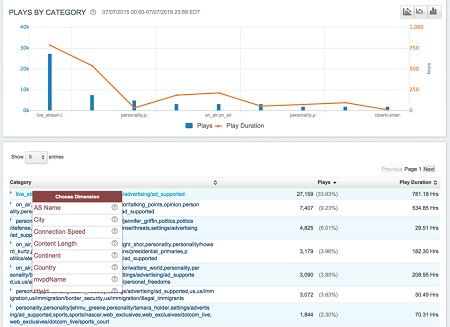 We are very excited at these new changes and we are always looking for your input on how we can continue to advance Media Analytics. To learn more, please visit the help documentation in your Luna Account Center found here, and if you have any questions, please contact your Akamai Account Team or C-Care representative.

Thank you,
The Akamai Media Delivery Team